If Michael's right, and he often is, there are pockets of opportunity hidden in the challenging environment we're all facing.
If you're following the industry news over the past 10 days you've probably already heard a couple versions of this story — and possibly smirked (hopefully with a measure of kindness) at one or two overly simplistic approaches suggested for what to do next. As home-bound consumers fill more time with online engagement, time spent is up across channels, and with it inventory is up, reducing the cost of impressions. (Yay!) But faced with economic uncertainty people are buying less stuff, especially optional stuff, negatively impacting conversion rates for purchase-driving ads. (Boo!)
As you'll see later in this email, the reality isn't quite so straightforward. Paid search, for example, has a different dynamic than other media as certain auctions remain competitive in a more demand-driven environment. Still, many brands have responded by decreasing or pausing ad spend, which makes sense in situations where demand is hard to find, the product isn't relevant, the supply chain is disrupted, or fulfillment is more difficult.
The advertisers directly benefiting, for example, are already positioned to cater to a quarantined world, such as online grocers and entertainment companies. eMeals, which handles meal-planning for grocery partners such as Amazon and Instacart, showed week-over-week increases as high as 67% for the number of meals submitted to its partners in the first week of March.
Meanwhile, streaming service Disney+ saw their number of signups more than triple from March 14 through March 16 compared to the same period from the week prior.
So, where does that leave the rest of us? Most advertisers are slashing budgets — an overwhelming 70% of ad buyers surveyed by eMarketer noted a budget change of some kind.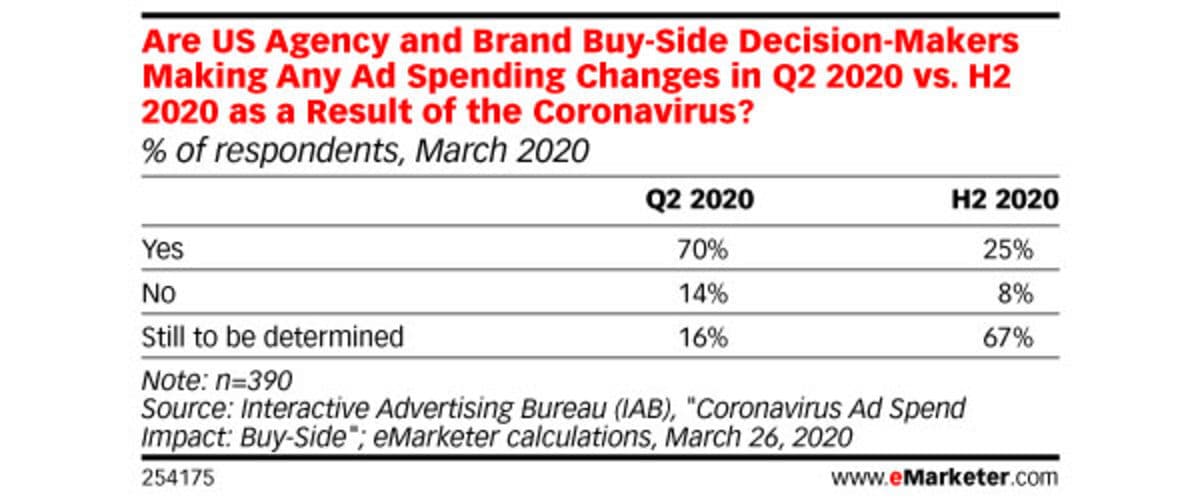 Source: eMarketer ("How Advertisers Are Responding to the Coronavirus Crisis") March 30, 2020
And a survey of 90 retailers conducted by CommerceNext tells a similar story, with 47% of respondents stating they've decreased paid media in response to COVID-19: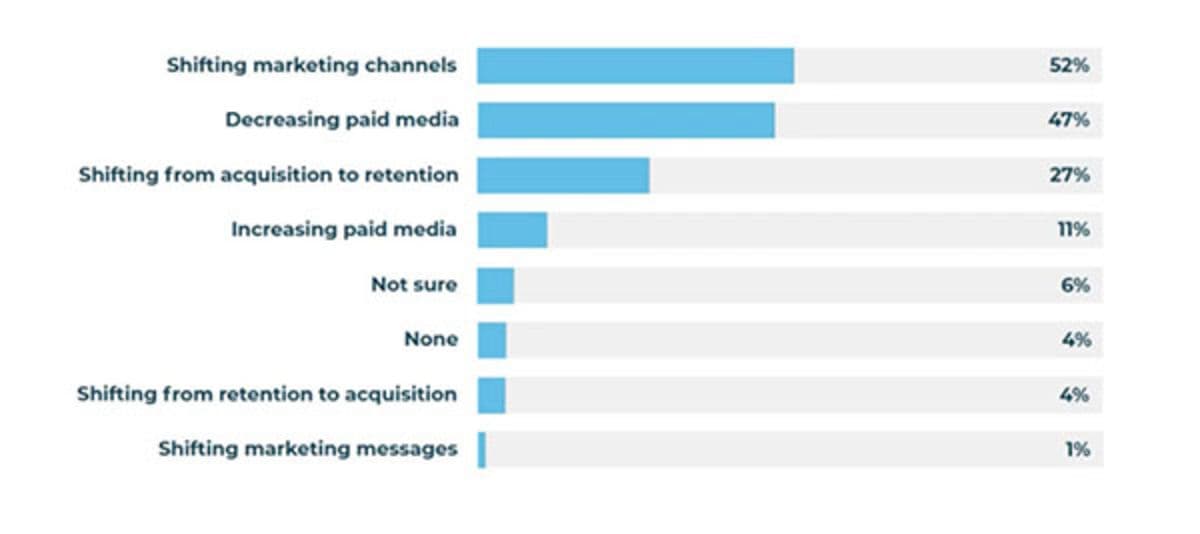 Source: CommerceNext, COVID-19 Survey (Base; 90 digital retail executives), March 16 - March 17, 2020
The trends are clear, but the realities for particular businesses are quite situational. What's going to work? My assertion is not only that it depends, but also that it's impossible to predict. In other words, the only approach that makes sense right now, at least for most businesses, is to test into new approaches in areas where results have declined.
While I'm wading into deep water, I'll go a step further. Uncertainty is the (old) new normal, so businesses that master test-and-learn operations to increase their adaptability are more likely to succeed not only through the COVID-19 crisis but beyond it. The current necessity, put another way, is also an opportunity to develop a capability that will become a permanent competitive advantage. If that's true, pausing advertising entirely is…a waste.
What stands out in the data is not only that brands are adjusting budgets but that, at an even greater rate, they are making adjustments to their channel mix. If I'm right, businesses are already wading out with me.
Following are some channel-specific observations from several experts within New Engen, along with guidance about where to experiment with adjusted tactics. Let me know what you'd most like to hear more about, and we will follow up with in-depth test ideas for those specific channels.


Facebook
Facebook follows our aforementioned trend to a tee — more users are online throughout the day, which creates more ad inventory. Advertisers are pulling back their budgets, which decreases competition, and this ultimately results in cheaper CPMs. We see this reflected in a recent study conducted by SocialBakers.
Users are increasingly online throughout the day:
Source: SocialBakers ("COVID-19 Is Changing Behavior on Social Media for Both Brands and Users") March 23, 2020
Ad spend is declining:
Source: SocialBakers ("COVID-19 Is Changing Behavior on Social Media for Both Brands and Users") March 15, 2020
And the result — so are CPMs:
Source: SocialBakers ("COVID-19 Is Changing Behavior on Social Media for Both Brands and Users") March 15, 2020
Because ad spend has been pulled back considerably, it's safe to assume that CVR has generally declined with it. What hasn't changed as drastically, however, is engagement — while people aren't buying, they are still browsing:
Source: SocialBakers ("COVID-19 Is Changing Behavior on Social Media for Both Brands and Users") March 15, 2020
This highlights some key strategic shifts that companies can make if they're able to advertise on Facebook during this time. Because ad costs have declined so dramatically while consumer attention has remained relatively unchanged, brands can conduct valuable higher-funnel activity at a significant discount. Some examples include:
Drive app-installs: People are bored, and the novelty of a new app might resonate a little more.
Cultivate your email list: Leverage Facebook's lead gen form or land users on a custom landing page (we'd recommend the latter), and use these new leads to offer special deals, updates on your brand's response to COVID-19, etc.
Increase the views of organic content: Use video view campaigns to increase viewership of organic-leaning content and retarget them (for up to 180 days).
Pinterest
Pinterest is seeing all-time highs for engagement on the platform over the last few weeks – usage of their pin sharing feature is reportedly up 34%. We've seen a commensurate level of increase in engagement rate among some, but not all, of accounts we manage, which suggests the benefits may be unevenly distributed across advertisers.
At the same time, increases in active users and engagement have not consistently trickled down to lower funnel behavior. Conversion rates have generally declined, with some verticals like apparel and travel hit especially hard. Pinterest has always been a place where users go to plan for future events (weddings, vacations, decorating a new home), but with many of those big planning moments put on hold, consumers appear to be biding their time and postponing purchases.
We've observed two clear impacts of this trend. The first is a decrease in CPM as advertisers reduce spend in light of overall uncertainty and reduced conversion rates. Pinterest is reporting a 30% drop in CPM for apparel companies, along with a 20% overall decline in CPM. They have also responded by making a clear pivot to the here-and-now – moving up the launch of a "Today" tab, which, as the name suggests, features more timely content. This is likely part of the broader shift in the social media landscape towards more current, ephemeral content, which represents a response to both current consumer behaviors and competition from rival platforms offering immediacy.
Despite Pinterest's clear pivot toward increased timeliness, we're not ready to give up on its longstanding and unique value proposition as a catalog of longer-term intent. Testing into more urgency makes sense as the platform evolves in that direction, but don't walk away from longer-term thinking about considered purchase, brand building, mid-funnel activities, like app downloads, and loyalty.
SEM
The overall picture is a bit more complicated for SEM than it is for social channels. One key distinction, which we see playing out in the trends for each channel, is that SEM is a demand aggregator as opposed to a demand generator. Generally, the goal of advertising on social channels is to seed demand, whereas on SEM the goal is to capture the demand intent expressed in the user query.
From a practical standpoint, this has a few important implications. First, CPMs have dropped on social channels due to the compounding impact of increasing inventory (i.e. more active users), and reduced competition. For SEM, auction inventory is specifically linked to consumer demand – if fewer people are looking to purchase luxury handbags, there will be fewer searches related to luxury handbags, and therefore reduced inventory.
Said another way, inventory is relatively independent of purchase intent on social channels, but is directly linked for SEM. Because there is no inflationary pressure on eligible auctions, we are not seeing CPMs or CPCs decline as precipitously for Google and Bing as for Facebook, Instagram, and Pinterest.
An implication is conversion rates should generally be more stable for SEM than for social channels. We may see an increase in window shopping for discretionary goods, but the high intent of a shopping-focused query tends to act as a filtering mechanism for conversion rates. A user searching for luxury handbags may be slightly less likely to purchase than they were three weeks ago, but their level of intent (and likelihood to convert) is still orders of magnitude higher than the general population, which provides a backstop for CVR.
Finally, another key distinction between SEM and social channels is the depth of auctions and impact of competitor behavior. SEM auctions, which take place at the keyword level, are relatively shallow, meaning that the actions of one advertiser can have a clear and immediate impact on the costs and position of another advertiser. Any marketer who has ever had a competitor bid up their branded terms knows this dynamic well. Competition across social channels is relatively diffuse by comparison, with thousands of advertisers competing for overlapping pools of users based on their interests and behaviors. In this competitive environment, the withdrawal of one or two rival advertisers is unlikely to have a substantial impact on cost.
As a result, cost-side trends are much more fragmented for search advertisers than what we see on social channels. Advertisers that compete directly with Amazon, which has recently pulled back substantially on paid search advertising, are likely to see acute effects including higher impression share and lower costs. On the flip side, advertisers who have not observed a noticeable change in the behavior of their direct competitors won't benefit from overall auction softness in the same way they might on Facebook. Total channel spend could be down 30%, but if there is no change in the auction dynamics for a given keyword set, the costs for those keywords won't see any relief.
For search marketers, this means that there is truly no one-size-fits-all solution. As with any period of volatility, the key is to pay close attention to auction dynamics, seeking out both opportunities and potential risks. Reduced top-line volume or higher acquisition costs are always going to be your first indicators of a change in the marketplace, and digging deeper into sub-level trends will help to identify the source of the change and guide you to the correct response.
Google's Auction Insights tool should be your best friend during this period, helping to discern what actions your competition is taking, how that is impacting your performance, where to make changes, and what you should try next.
The faster your rate of change, the greater your likelihood of finding success.
YouTube
It's no surprise YouTube's usage is up globally as people turn to video content to adapt, cope, connect, and entertain themselves. Yes, people are turning to YouTube for entertainment of course, but they are also using it for a place to stay in the know on COVID-19. YouTube is seeing tens of millions of search queries each day related to COVID-19 and over the last month, they've seen billions of views on COVID-19 content. For authoritative news alone, YouTube has experienced a significant increase in watching time in February with 10X growth in the U.S. and continued growth through March.
So what we're seeing here suggests much more than a need for memes, instructional video, and distraction: YouTube is finally becoming a source of authoritative content alongside traditional broadcast and on-demand content to meet specific informational needs.
Students seeking at-home learning solutions are leaning into "study with me" videos, which are experiencing a 52% increase in views year-over-year.
With extra time available in the kitchen, hungry users are looking for nw recipes and creative ways to incorporate non-perishable items into their day-to-day meals. "Pantry meals" queries are up 49% in year-over-year views.
There's no doubt that COVID-19 has certainly caused some stress, and YouTube is seeing a 38% spike in year-over-year views for content related to coping techniques including short meditation guides and stress relieving yoga videos.
Users are flocking to YouTube to maintain their workout schedules, and as a result YouTube is seeing a 57% increase in average daily uploads of workout content.
When it comes to YouTube advertisers, they are also reaping some benefits from the YouTube usage surge with YouTube ad views up 21%.
With so many people spending more time on YouTube, there are many opportunities for brands to experiment with new approaches and get feedback faster. Become a part of your customers' at-home reality by providing content to help them learn, cope, accomplish, and entertain. Be helpful. Be funny. Be creative. Above all else: be relevant to your customers and true to your brand.
CTV / OTT
Similar to YouTube, CTV/OTT video streaming is picking up steam as COVID-19 forces us into full-on binge mode. As millions of Americans are forced to stay inside, they are actively consuming more news and entertainment, with streaming options becoming an increasingly important part of the mix. According to new Nielsen data, Americans streamed 85% more minutes of video in March 2020 than in March 2019. The average person has spent 36% more minutes streaming TV and movies in the last four weeks and binge watching (watching 3+ episodes in one sitting) has climbed to more than 25% over the last two weeks. Going more granular, in the first half of March, CTV streaming viewership is up by 24% and OTT up by 56%. According to Comscore, the growth continues to peak over the last few days with CTV up an additional 34% and OTT by 20%. This is good news particularly for Netflix as they hold the largest share of over-the-top video consumption.
Not only is streaming TV viewership up in general, but viewership is up every single hour of the day as more users tune in throughout the day rather than during non-working hours.
With the increase in CTV/OTT viewership, there is an opportunity for advertisers to reach a more engaged audience throughout the day outside of the coveted prime time slots. Response by advertisers so far has been dynamic based on vertical. Unsurprisingly, travel, retail, sports, and luxury brands have pulled back on CTV advertising while technology and computing, hobbies, and interests are increasing spend.
For those that fall somewhere in between and are still spending in the space, they are seeing more engagement but less efficiencies. Some of which are deciding to switch to higher funnel KPIs focusing on growth over return.
Despite some advertisers increasing spend, it's not enough to offset those that are pulling back. Overall, CPMs have decreased alongside an increase in open avails across the CTV/OTT space. According to the DSP, Trade Desk, video ad CPMs are down 27.4% and avails up 35-66%. This means that advertisers who spend during this time can more easily win ad spots at a lower cost. If you are new to the space, this might be a good time to consider a strategic test to take advantage of an engaged audience and more accessible ad inventory. As consumer intent is mixed, return may not be immediate. But the time can be well spent by driving awareness and traffic while generating learnings at a lower cost. Those learnings can be used to inform decisions when it's time to ramp back up.
Summing it all up
It might sound counterintuitive to suggest advertisers consider making material changes in strategy and trying unproven tactics right when things are suddenly much harder than normal. But that's exactly what I'm suggesting, exactly because things aren't normal. Teams who master rapid test-and-adapt approaches to marketing will thrive where others struggle — not just in the current, exceptionally challenging environment but also in the long run, where testing speed will become a marketing KPI and a fast pace of change will become the defining quality of the very best brands.